Jordan - Areas of Impact
Youth Organizing Program

The youth represent a vast and often untapped resource for immediate and long-term community development efforts. They are receptive to new ideas and are willing to invest more in change. When young people are able to access opportunities that spark their creativity and dynamism, they become a potent force for positive change in their communities.

In our partnership with the youth, we focus on education, participation and choice. We work together to even the odds by helping them access quality education, and by generating opportunities for personal growth as well as skill and leadership enhancement. The weekly community service is at the heart of our youth program.

The end objective is scholars with skills and experiences that enable them to become change agents in their communities. The key pillars of this program are the Mousab Khorma Youth Education and Empowerment Scholarship Fund (MKYEF) and Cultural and Business Enrichment.
Click on each of the boxes below to learn more about the components of the program.
Child Development Program

The children in the communities where we work often have no access to some of the most basic rights to which every child is entitled. As a result, many end up stumbling on a path that carries them further away from their potential.

The Child Development Program staff and volunteers, many of whom are from the community itself, dedicate themselves to answering questions, availing resources and sharing age appropriate knowledge and skills, guiding each child through a journey of personal, emotional and physical growth.

The program has three integrated components that promote practices which develop children's creativity and physical wellbeing: Inquiry-based Learning, Parental and Community Support and School Outreach Activities.
Click on each of the boxes below to learn more about the components of the program.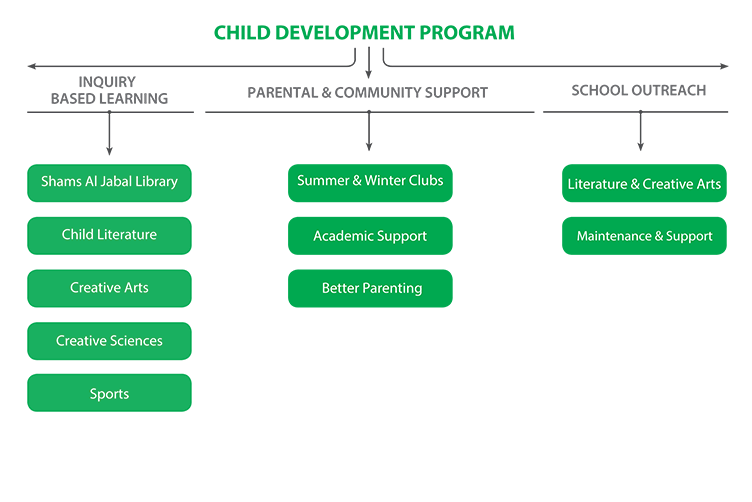 Community Support Program

At Ruwwad, we believe that solutions to problems are best engineered by members of the community. We use a collaborative, participatory approach to community organizing and development, working hand-in-hand with interested constituencies and engaging as partners and decision makers.

The Community Support Program comes together through three components that increase awareness and access to vital services and rights: Partnerships and Services, Psycho-social Support and Women Advancement.
Click on each of the boxes below to learn more about the components of the program.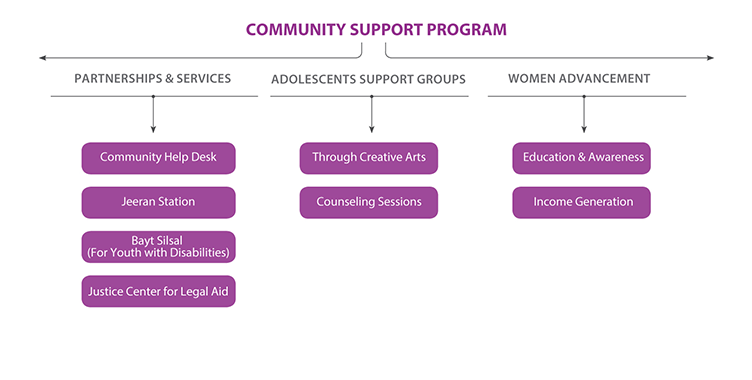 Community Led Campaigns
Community organizers mobilize citizens to work collectively in solving longstanding challenges. Towards this end, Ruwwad adopts a structured community-focused methodology aimed at organizing community-led campaigns. The main objective of such campaigns is to nurture civic initiative and agency.
 
Ruwwad introduced the concept of community organizing in 2010 through its partnership with "Mujtama3i", a dedicated platform for Arab organizers, and subsequently with "Ahel", a social enterprise specialized in community organizing. In 2011, Ruwwad, Jordan, launched the "6 Minutes Joy of Reading," its first campaign in Jabal Al-Natheef, and in 2012, Ruwwad kicked off the "Safe Homes" campaign.
In 2014, Ruwwad launched "For Your Sake" to address child abuse in neighboring schools, and 2015 signaled the start of intensive efforts to address and introduce corrective action. The year 2016 marked the local community's success in protecting children from physical and verbal violence in 12 schools in East Amman.