Jordan - Our story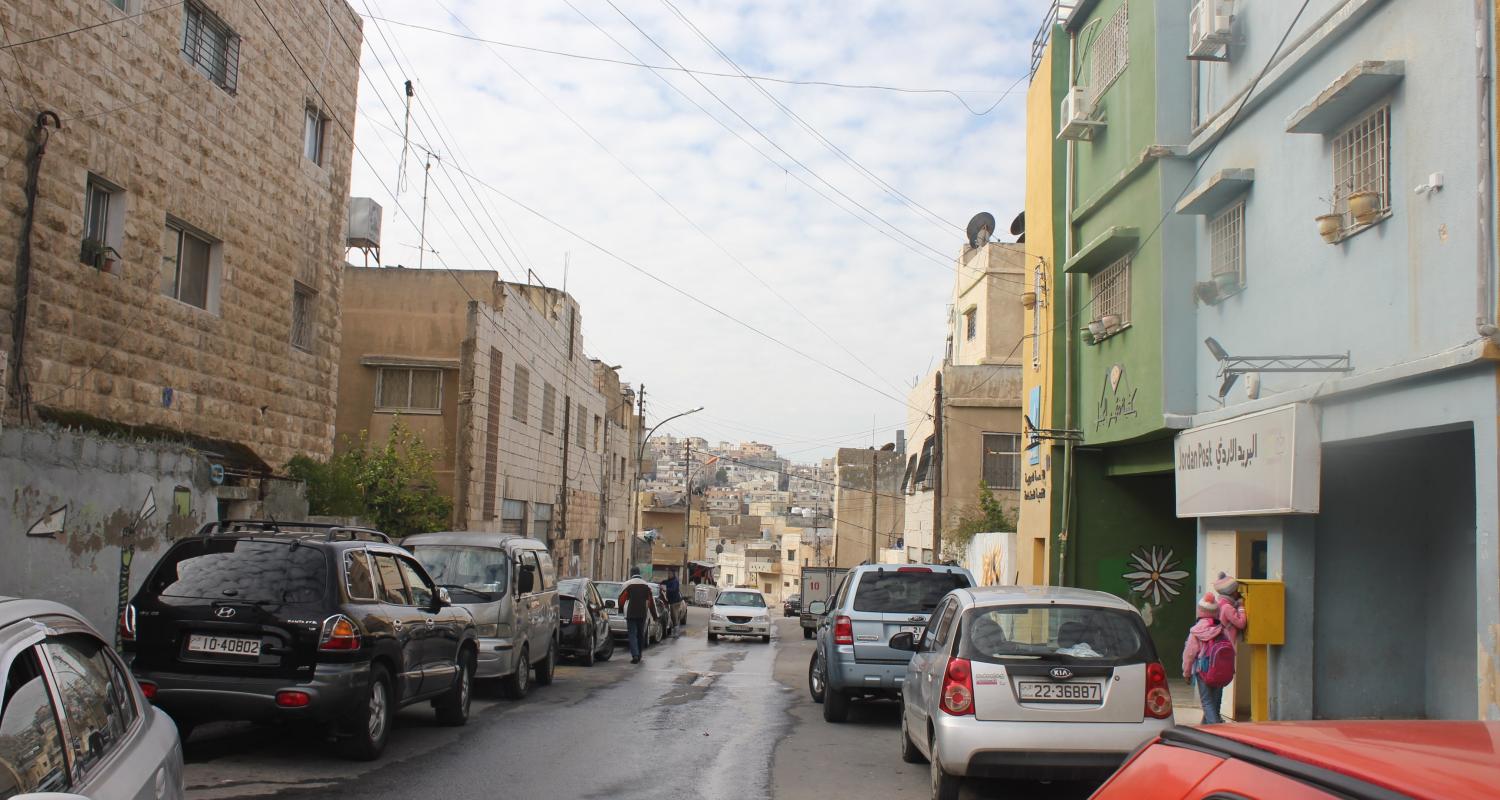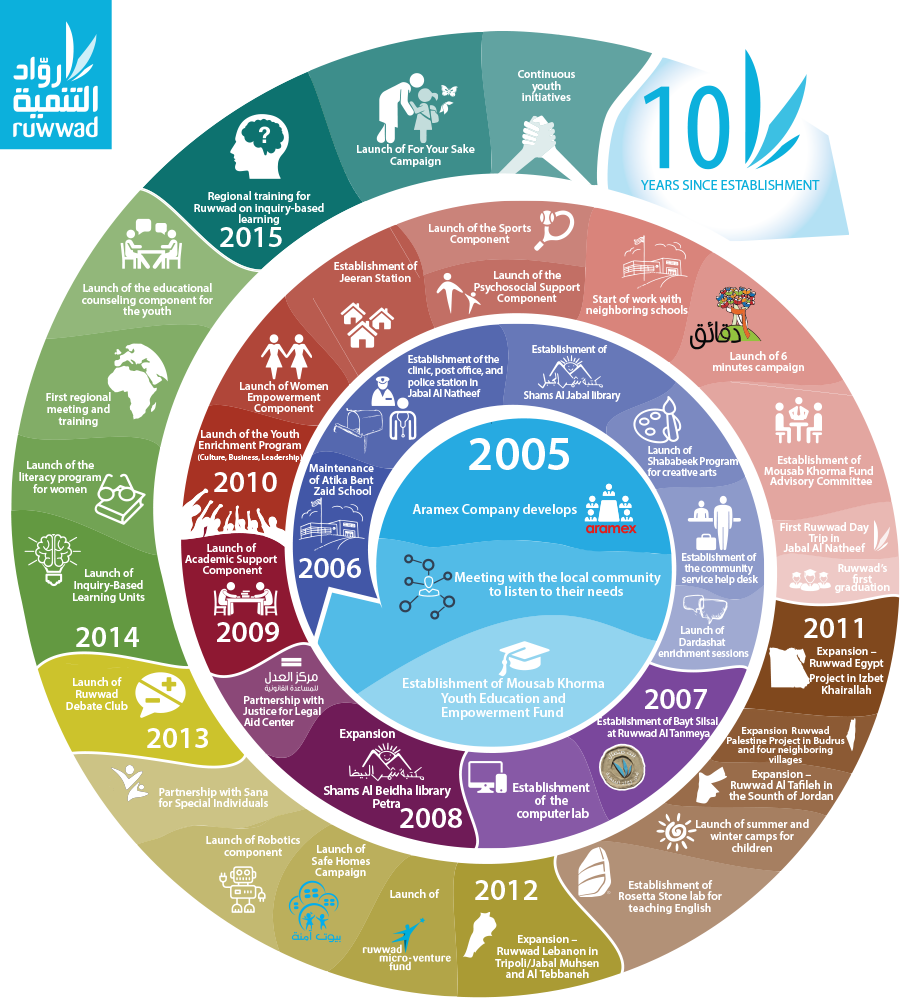 Ruwwad developed as an idea in mid-2004, when Fadi Ghandour, founder of Aramex International, one of the world's leading logistics companies, discussed his intentions to play a more active role in community development with his company's management team and CSR department. Until that time, Aramex had consistently supported social, educational and entrepreneurial initiatives. And so, in 2005, the decision was taken to establish a foundation that would transcend Aramex's CSR programs. The foundation would involve other private sector players and work with a specific low-income community rather than allocate resources to various individual projects, and it would carry the name of Ruwwad Al-Tanmeya – The Arab Foundation for Sustainable Development.
In spring 2005, efforts were underway to register Ruwwad as well as purchase and upgrade a building that acts as a community center in Jabal al Natheef, in east Amman. It was clear to everyone who worked on the initiative that Ruwwad needed an on-site presence if it were to truly gain the trust of the community and become a vital asset. Parallel to the registration process, Fadi Ghandour continued to conduct many meetings and roundtable discussions with entrepreneurs, civil society groups and social activists. As a result, a support group developed around the core founding team led by Fadi and Raghda Boutros – Ruwwad's Director at the time – and the early seeds were sown.
In November 2005, three hotels in Amman were simultaneously hit by suicide bombers and more than 60 people lost their lives. One of the young people killed in the attacks was Mousab Khorma, a Jordanian entrepreneur and close friend of Fadi Ghandour's. Fadi called for a meeting with various friends and business partners. He introduced the newly established Ruwwad, presented a film on the community and raised donations for the Mousab-Khorma Scholarship Fund (MKYEF). The Mousab Khorma Scholarship Fund has now become the cornerstone of Ruwwad's work with youth and local communities.
In mid-2006, Samar Dudin volunteered with Ruwwad, introducing a weekly two-hour youth interactive discussion forum with MKYEF scholars. This forum became the nucleus of cultural Dardashat, an integral part of the Enrichment Component within the Youth Organizing Program today. Over the following three years, Ruwwad embarked upon various initiatives, which would later evolve into its core programs.
By 2009, Ruwwad had established a strong presence for itself in the community. The proper infrastructure was in place and core services were set up, in partnership with government and private sector actors. Ruwwad then, in partnership with the Beida Amareen Cooperative, took the Shams Al Jabal model and the MKYEF program to Beidha (Little Petra), a Bedouin town near Petra. The scholars offered their community service and a children's library was developed in partnership with the Swedish Anna Lindh Foundation.
Between 2011 and 2013, Ruwwad's regional expansion took place through Aramex, as a main partner corporation, and a network of entrepreneurs. Find out more here about the expansion to Lebanon, Palestine and Egypt.
In 2012, Ruwwad expanded locally to reach Tafileh in the south of Jordan. Salma Moghrabi, Royana founder, got in touch with Ruwwad and introduced us to a network of youths. Consequently, a small fund was established to support 50 scholars. In 2013, the scholars launched their first summer club with 50 participating children in the small village of Eimeh, and early in 2014 a community center was founded in Al Qasr, also in Tafileh. By summertime, three summer clubs had been launched in Al Qasr, Eimeh and Ain Al-Beidha.
Planting the seeds for the future of Ruwwad, the year 2015 focused on enhancing the efficiency of operations in Jabal Al Natheef and the region through technical support in the areas of monitoring and evaluation, inquiry based learning and enhancing life coaching and counseling.